Introduction¶
All administrative and configuration settings for any FieldTwin Platform application can now be found in the FieldTwin Admin application.

Your administrators now have easy access and complete control over all projects, project settings, users, user roles/rights, and all data. The application has an improved UI for managing complex Metadata attributes, and groups.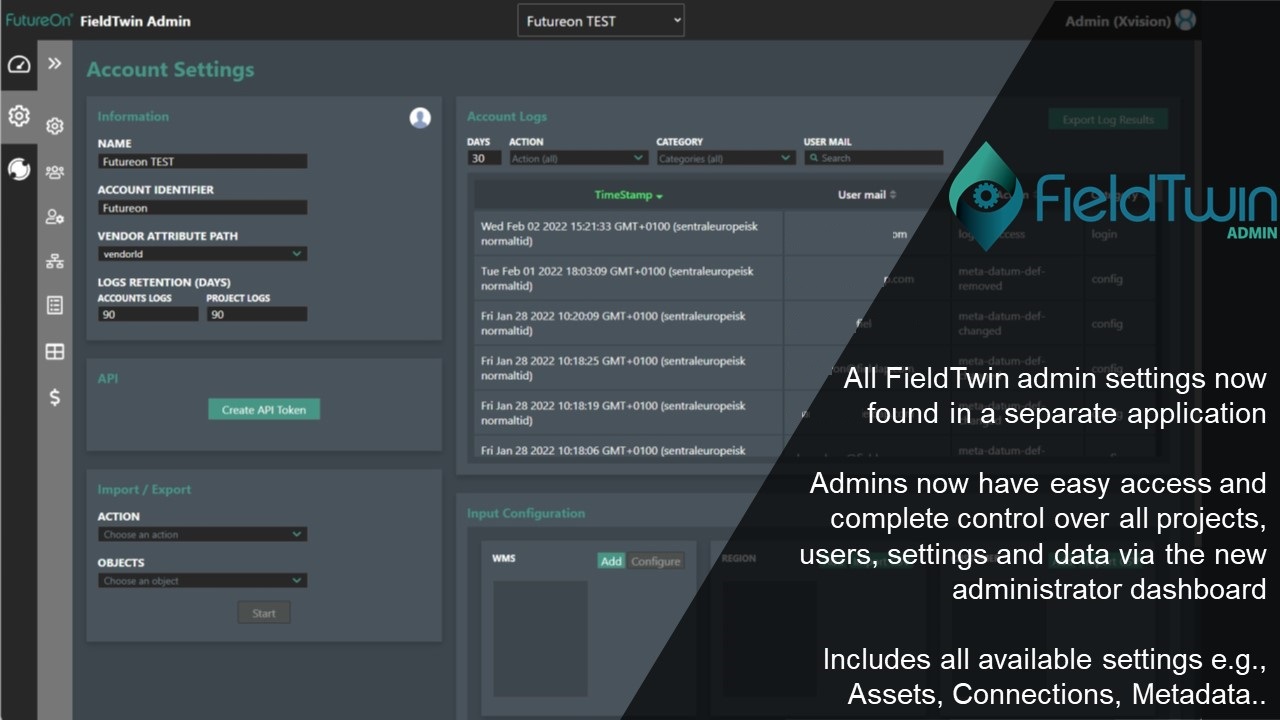 Benefits¶
One application for all administrative settings for all FieldTwin platform apps

Manage - Easily select project(s) to manage settings for

Users - Quckly select user(s) to apply permissions to indivdiual or all projects

User Roles - Create new user roles with specific access permissions to suit your workflow such as Drilling Engineer

Metadata - Easily create, assign, and manage metadata / metadata groups with the new UI
Software, Internet and Hardware Requirements¶
FieldTwin Admin is available to the assigned admin users for your organization
Admin will work on most laptops/desktops:
Hardware Requirements
CPU: Core-i5
RAM: 8 GB
Disk: SSD highly recommended
Large screens highly recommended (1920x1080 or greater)
Mouse
Internet Requirements
Use a connection with the highest bandwidth, the higher the bandwidth the better the performance.
Try to use cable connection where possible.
Browser Requirements
We recommend Chrome for all features with optimal 3D performance! But, you can also use any Chromium based browser e.g. lastest version of Microsoft Edge. The lastest Firefox browser will also work. FieldTwin Collaborate has been tested with Chrome on the following operating systems;
Microsoft Windows 10/11
Mac OSX or newer
Most popular Linux OS's
Download Chrome
Accessing old Admin¶
For a transitionary period, the old FieldTwin Design Admin & Settings UI will still be available to you. To open the previous version, select the Open with previous admin button on the top bar as shown here:

This will display the familiar settings screen as shown below, but with an option to go back to the new FT Admin application by pressing the Open the new admin app:

Current Version¶
Current Version
The current version is new from FT Design: 6.4.1 Released in July 2022